An indispensable tool for your covers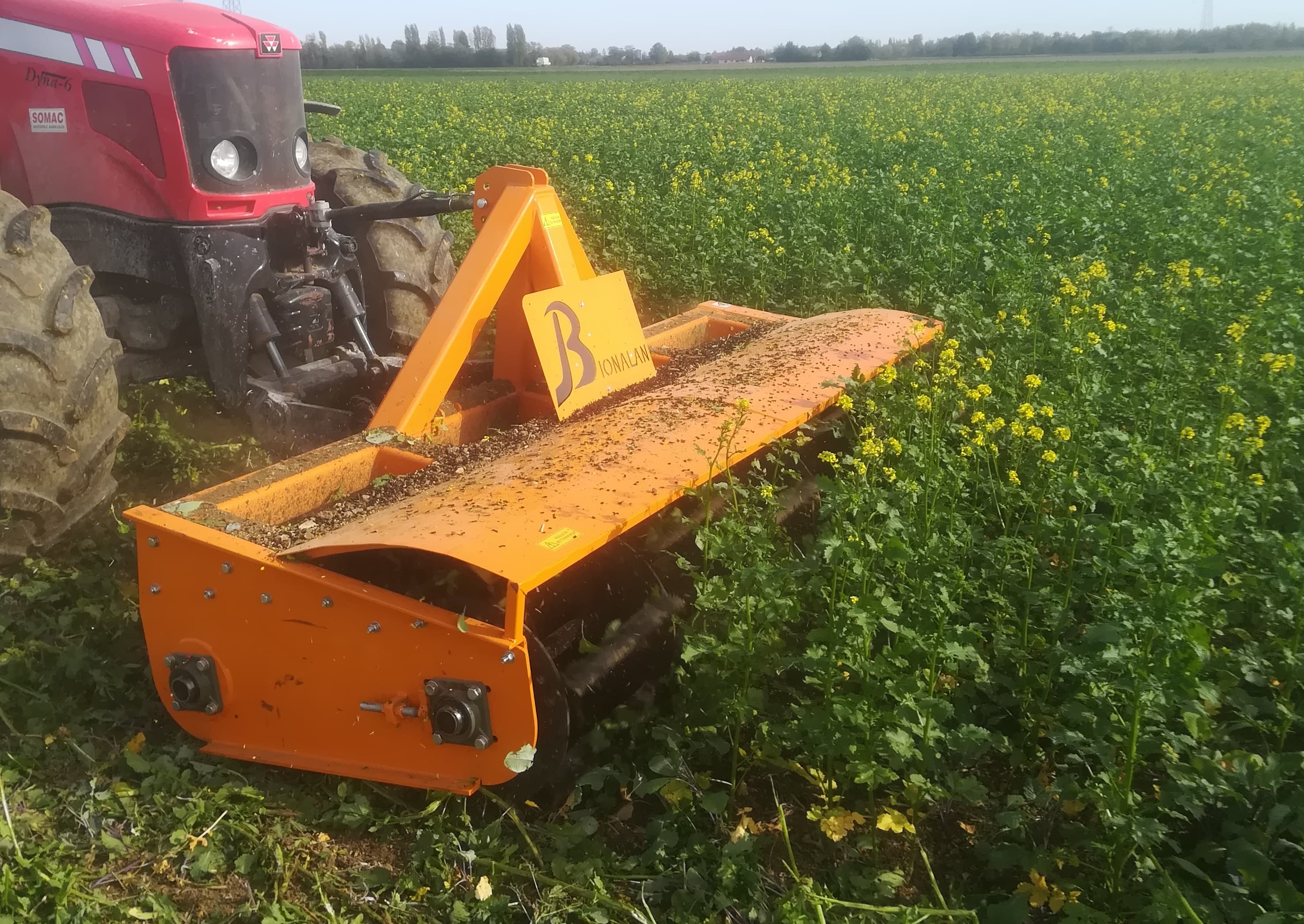 Our Biola roll, ist a revolution in the world of FACA with his pincipe being simple and efficiency.
The Biola, with a width going of 3m to 9m has a advantage that no other roll enjoys. We can use it in the differents types cover crop developped or less developped on grasses or legumes.
We will be able to choose also the rendering of defibering after the passage of the tool thanks to the interchangeable pinion and so to vary the reduction between the rolls.
This will allow you to optimize you cover crop as possible, of choose the degree of defibration for keep the sufficient biomass to cover your soil or to carry out a grinding in order to destroy entirely the cover crop if this one is too much degrader to pass an animated ground tool.
The roll Biola, works the plant alway upright which makes it possible to be light because our blades do not need to come against the blades with the ground.
This allow use equip tractors up to 9m at the front, and above all there is the possibility of combining the tools at the rear.
Utility and description of the equipment :
A revolutionary cover destructor by its price, efficiency and weight
Coupling at the front or at the rear (non-reversible)
Width from 1m to 8m on demand
Hydraulic folding from 4 m
Composed of 2 rollers :

a small 400mm corner roller with a 42 teeth sprocket
a big 560 mm suspended chopping roller with a 14 teeth sprocket
The corner roller, in contact with the ground, drives the suspended chopping roller
Rollers synchronized by sprockets connected by a 12B double chain (chopper speed 3 times higher than the corner roller)
Chopping roller rotative speed adaptable by interchangeable sprockets to ensure optimal coverage and chopping.
Corner roller in solid cylinder to completely tackle the vegetation and have a perfect visual
Total weight of the set : about 300kg/metre
Gable configuration

(Angle/Knife)

Results
Use

Light defibration
Mulch the soil
Pinches the material to the ground

All types of low density cover crop
Conservation of ground cover despite low density cover crop
Direct-seeding

45-35
2,5 times faster chopper rotation

Aggressive defibration
Mulch the soil
Pinches the material to the ground

All types of high density cover crop
Reduces biomass to limit ground cover
Direct-seeding

45-15
4 times faster chopper rotation

Aggressive defibration
Mulch the soil
Pinches the material to the ground

All types of high density cover crop
Cereal stubble
Canes of rapessed and sunflower
Regrowth from alfalfa
Grass, fallow, grassland redus
Pairing with tine or disc tools
Plow
Direct-seeding